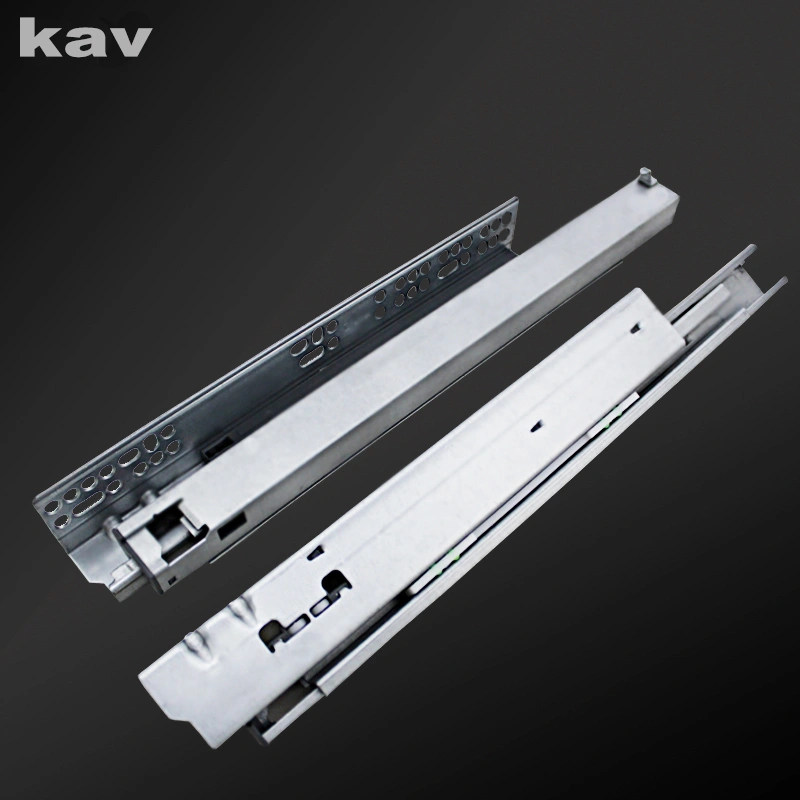 The quality of the drawer always decide to its wood panel and furniture fittings. In the drawer, the common furniture fittings are drawer runners. A set of good drawer runners not only can improve the level of drawer, but can protect the drawer for life.
Nowadays, More and more concealed slides are used in drawer. But its price always is more high than traditional ball bearing slide. Why do people prefer concealed slide?
Today we analyze the characteristics of the kav full extension soft close concealed slide together.
1.Compare with side mount slide, the biggest difference is that it is under mount. When you stand two sides of drawer, you can not see it. So that it is more beautiful for the whole drawer.
2.It is full extension, which helps you see and get items from drawer more easier.
3.Its material is environmental galvanized sheet and its thickness is 1.8*1.5*1.0mm. The loading capacity of drawer slide is 30 kg.
4.And the concealed slide can be designed matching adjustable pin or handles. With this design, it is available for easy installation and can adjust the height of the drawer panel.
5.The damping system can achieve the self-close function. Just push the drawer front panel gently and the drawer will be close on its own silently.
The concealed slides are popular because of the advantages above!
And we also produce single extension soft close concealed slide, which is more economic. If you need, please contact us and let us know your requirement, we will introduce the most suitable under mount slide for you.